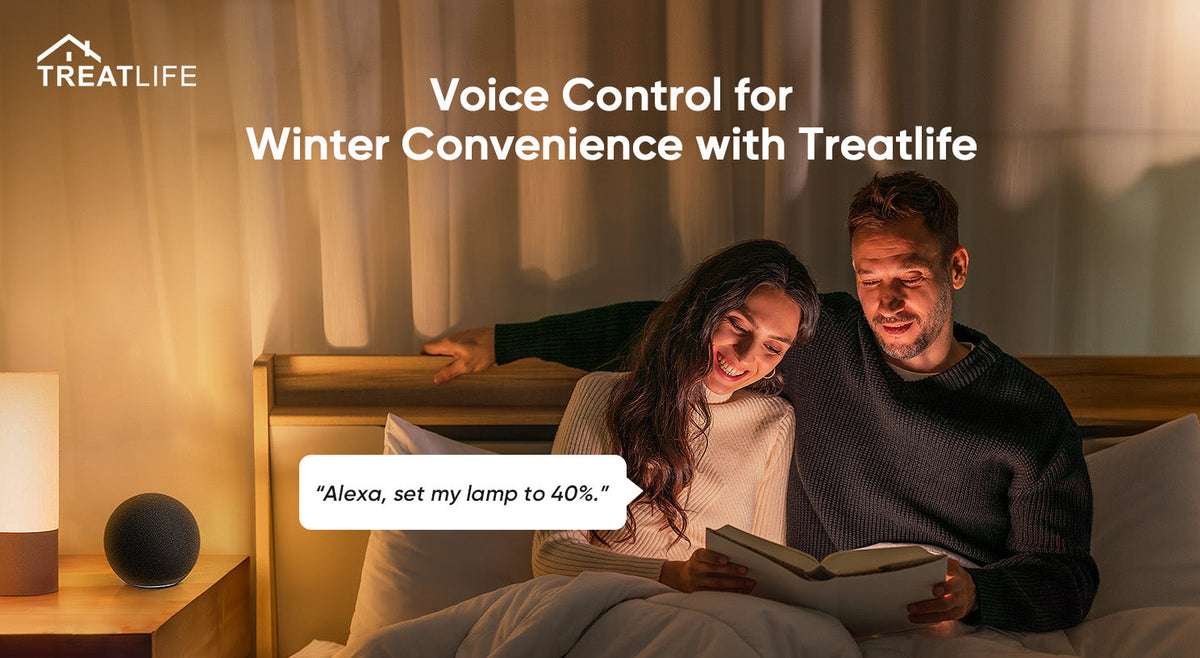 Enhance Winter Comfort with Voice-Controlled Smart Lighting from Treatlife
Winter is the season for warmth, comfort, and spending quality time indoors. With Treatlife's innovative smart lighting solutions, you can take your winter coziness to the next level, all with the power of your voice. Our smart light bulbs, switches, plugs, and dimmers are seamlessly integrated with voice assistants like Alexa and Google Assistant, making it easier than ever to create the perfect winter atmosphere in your home.
Voice-Controlled Smart Bulbs for Interior Lighting
Imagine being able to set the ideal lighting scene for various winter activities with a simple voice command. Treatlife's RGB color-changing smart bulbs and tunable light bulbs allow you to do just that. Using the Alexa or Google Home app, you can create pre-set lighting scenes like "Cozy Winter Night" for your bedrooms, "Bright White" for bathrooms, or even a colorful scene for your living room. Whenever you want to change the ambiance, you can activate your preferred lighting scene with a voice command.
Smart Dimmer Plugs for Outdoor Voice Control
In the winter, outdoor lighting is essential for both safety and aesthetics. With Treatlife's outdoor dimmer plugs, you have voice control over your outside lights. Whether it's porch lights, walkway lights, or spotlights, you can easily brighten your property by saying commands like "Alexa, turn on the backyard lights" or "Alexa, set the porch lights to 50%." It's a convenient way to ensure a well-lit outdoor space after dark.
Smart Switches for Indoor Hands-free Control
Voice control combined with smart switches allows you to create a warm and inviting atmosphere in your home during the winter. For instance, you can ask Google to set the living room lights to 30%, conserving energy while maintaining a hygge ambiance. Smart switches are perfect for indoor mudrooms and entryways, where voice-activated lighting can welcome you home from the cold weather. You can also create cozy lighting scenarios for bedrooms, such as "Alexa, dim the bedroom to 20%," without ever leaving your bed.
Smart Plugs for Voice-Controlling Appliances
Treatlife's smart plugs offer you voice control over various winter appliances, making your life more comfortable. For a cozy wake-up routine, plug in your coffee maker, kettle, or electric teapot and start your day with a simple "Alexa, make coffee." Voice commands also extend to controlling electric blankets or heating pads, allowing you to stay warm with a quick "Hey Google, turn on the blanket." Additionally, you can set the mood for relaxation by turning on essential oil diffusers with a voice command.
This winter, make the most of Treatlife's smart home products by incorporating voice control. The convenience of adjusting your lighting and appliances with your voice is unmatched, especially when it's cold and dark outside. Transform your home into a haven of winter comfort with Treatlife.