A Reliable Brand You Can Trust
Whole-Home Automation
Treatlife smart sensor kit works with all Treatlife devices seamlessly to create automatic lighting systems for any occasion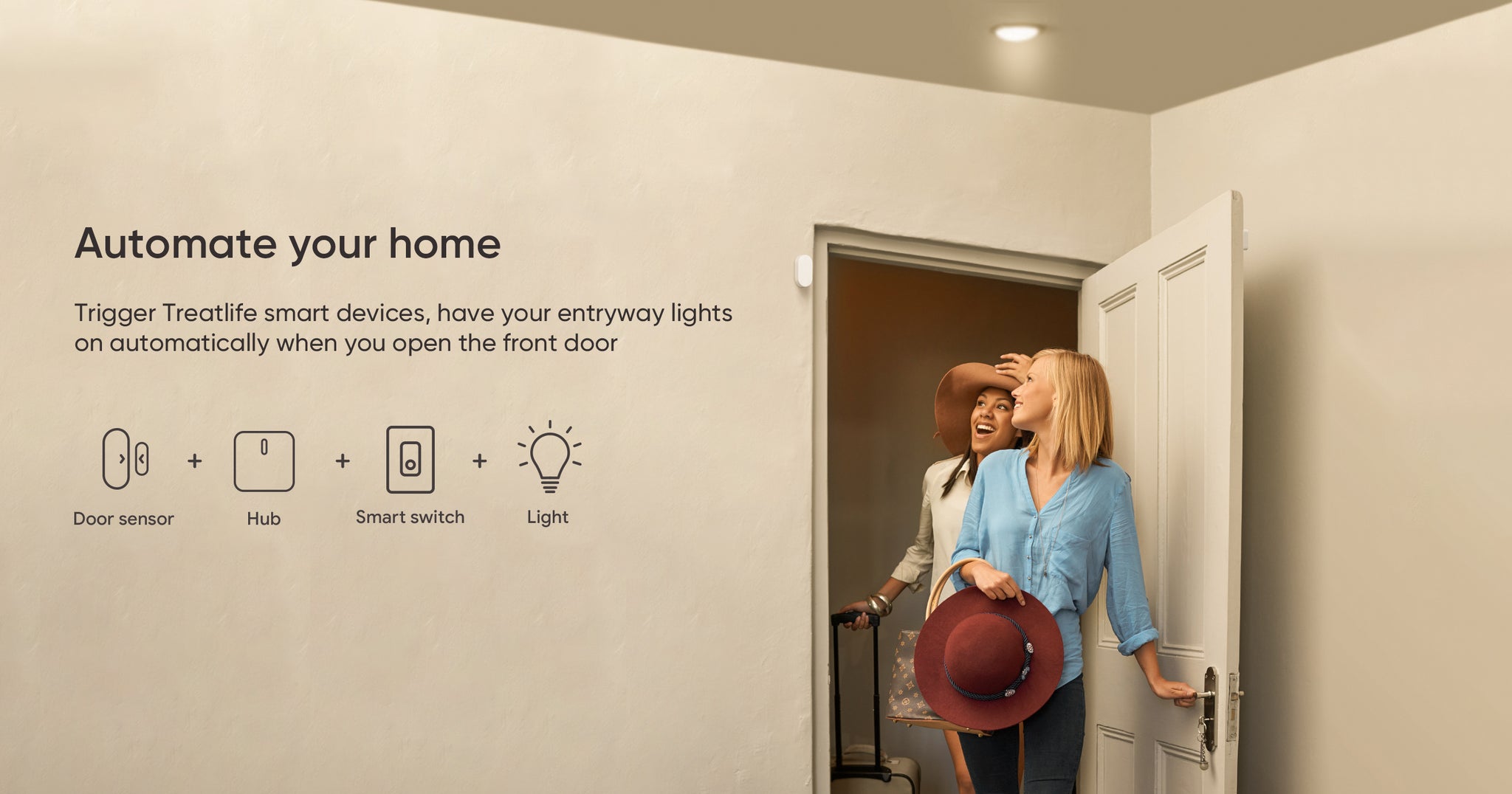 What They Say
This product is easy to use and works wonderfully. Got it just in time for Halloween and will definitely be reused at Christmas for the outdoor lights. 
We are looking forward to using this for our Christmas lights this year. The wifi range is better than I expected, and Alexa integration has been excellent.
I am using the plug to connect underwater lights in my pond (the lights are underwater, not the plug). It does the job nicely.
I wanted an outdoor smart dimming plug that could operate my ambient lights on a dusk and dawn schedule. This worked perfectly!
This is a must for outdoor string lights. Control through alexa or phone. Dimming is a nice feature.
Smart home – take control of your home!
Smart home technology is a compilation of various solutions that allow you to automate and remotely control your home using your smartphone or other mobile devices. This makes it possible to manage home appliances from anywhere.
In the group of smart home solutions, smart lighting systems - smart switches and smart lighting - are of particular interest. They allow you to control the lighting in your home using a smartphone or tablet. In this way, you can regulate the intensity of the light and its temperature, as well as program schedules for switching lighting on and off. They work with Apple HomeKit, Siri, Alexa, Google Home, and SmartThings. You can thus control lighting by voice, hands-free.
In addition to lighting, house automation solutions also provide the ability to control ceiling fans, making it much easier to regulate the temperature in the house. This can save you money on your energy bills, as these devices allow you to adjust the temperature according to your individual needs.
When choosing smart home products, it is also worth paying attention to intelligent security features - motion sensors and alarms that allow you to monitor your home and notify of danger. Thanks to them, you can effectively increase safety at home and have greater peace of mind.
Why use smart home and home automation solutions?
Using smart home and home automation solutions can bring many benefits.
Convenience
Because most of the devices in the house are connected to the smart home system, they can be easily managed from one place - remotely turn the lights on or off, regulate their brightness, or control the ceiling fan. Commands can also be given by voice, hands-free.
Security
Smart home systems allow you to monitor your home with cameras and motion sensors. As a result, you can quickly react and contact the appropriate authorities if you notice alarming activity.
Energy savings
With home automation systems, you can easily control energy consumption in your home. For example, you can automatically turn off appliances when not in use or adjust room temperature according to the time of day and season.
Comfort
A smart home can customize home settings according to your preferences. For example, you can set your favorite room temperature, and the system will maintain it independently.
Modernity
Using smart home solutions makes your home more modern and convenient. From intelligent lights, dimmers, and security features to any other home automation, you can stream from one app or voice, even when you are not at home.
Treatlife smart home solutions
By entering the privacy of our customer's homes, we are fully aware of our responsibility for the security and reliability of our smart home solutions. At Treatlife, we believe modern technologies are changing people's lifestyles. However, one thing still remains the same - the attachment to a home that gives a sense of security brings moments of respite after a hard day and is also a place to meet family and loved ones.
In our range of home automation products, you will find what you need to leave and return to your home with peace of mind every day, as well as to relax in it. With smart home solutions, you gain complete control over your home while increasing your comfort. As a testament to the quality and functionality of our products, we are already trusted by more than 500,000 families worldwide. In addition, you can find our intelligent solutions on Amazon in the bestseller category with more than 60,000 5-star reviews.
So don't hesitate a moment longer and join the ranks of satisfied Treatlife customers by bringing home automation products into your home!