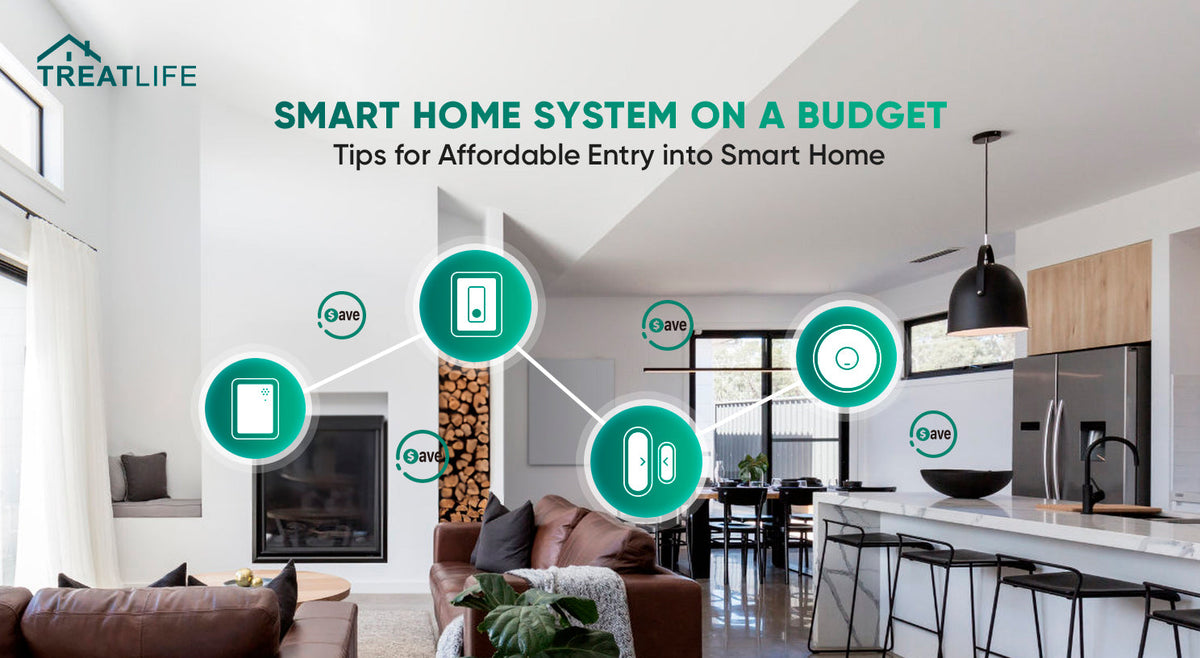 Smart Home System on a Budget: Tips for Affordable Entry into Smart Home
Smart home devices like voice assistants, smart plugs, smart lights, and smart sensors are getting more affordable than ever. But building out a complete smart home still requires a significant investment. Here are some tips for getting started with smart home technology on a budget.
Start Small, Expand Over Time
The key to affordably creating a smart home is resisting the urge to automate everything at once. Pick a few devices that will provide the most utility and convenience first. Over time you can expand by adding more devices in order of priority and as budget allows.
Good starter smart home devices that provide high value include:
Smart plugs: Plug appliances like fans, coffee makers, washing machine, and chargers into smart ones so you can control them remotely at anytime. Not only is it simple to set up (plug and play), but it is also quite affordable. No doubts about buying such a smart device. 
Smart bulbs: Install smart bulbs in frequently used lamps and overhead lights. Treatlife bulbs are affordable options but not sacrifice vibes and ambience.
Smart switches: If you don't want to purchase smart bulbs as you already have some bulbs that are not smart, consider smart switches. Treatlife makes a variety of price friendly smart light switches that don't require replacing your existing light bulbs.
 
Smart sensors: Nowadays, home security should be placed as a top priority. Smart sensors provide an affordable way to monitor your home 24/7 and get notified of any concerning activity. Two cost-effective must-have sensors for beefing up security are motion detectors and door/window sensors. When motion is detected or door is open, you'll receive an instant alert on your smartphone.
 
Take Advantage of Sales
Check the Treatlife website or Treatlife Amazon store frequently, as we run flash sales on smart bulbs, switches, plugs and other devices from time to time. Besides, major holidays like Thanksgiving Day, Black Friday, Cyber Monday, Prime Day, and Christmas/New Years are prime times to find Treatlife products with huge discounts. Set calendar reminders so you don't miss these big sales. By the way, keep an eye on our newsletter where we will make sure the sales news reaches you timely. 
Start with Essential Rooms
When installing smart lights and other smart devices, focus first on the most lived-in rooms like the living room, bedroom, and kitchen. Expand to less crucial spaces later. Transform your house into smart step by step.
In conclusion, building a smart home doesn't have to break the bank. By starting small, taking advantage of sales and deals, and focusing on high-priority spaces first, you can craft an affordable smart home system that enhances convenience and security. Treatlife's wide range of budget-friendly smart devices makes it easy to automate your home on a budget. With smart upgrades implemented gradually over time, you'll soon enjoy the benefits of smart home technology without the high price tag. Remember to start with the essentials, stick to a budget, and grow your smart home ecosystem over time for smart living made affordable.