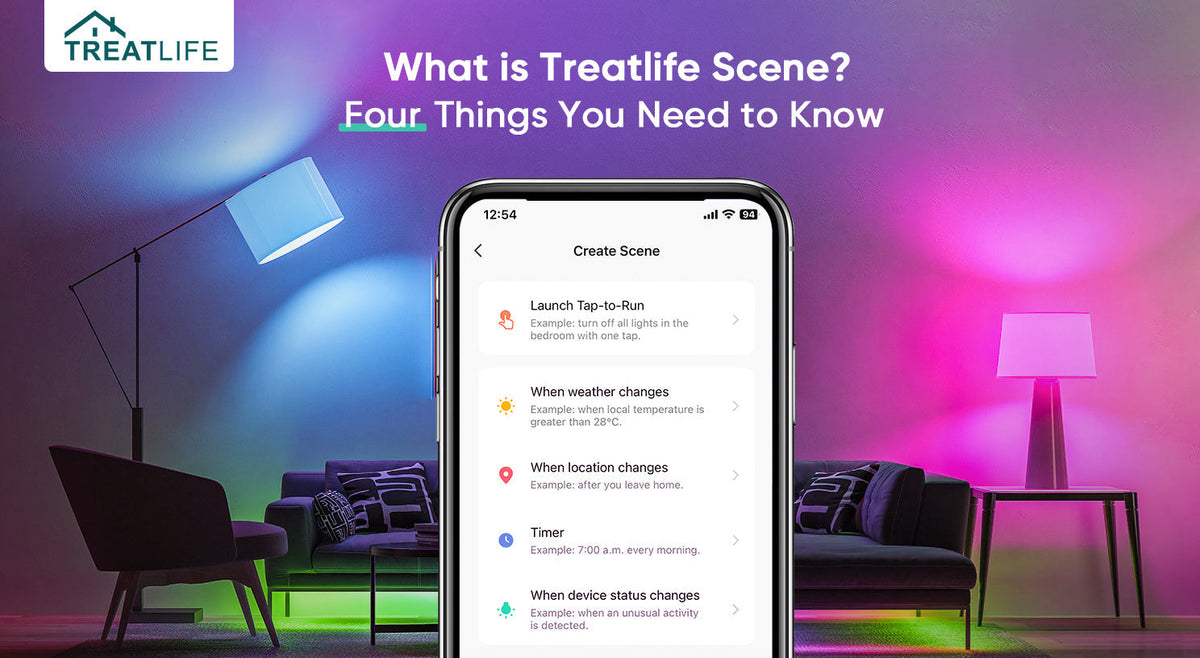 What is Treatlife Scene? Four Things You Need to Know
We believe that advanced technology can somehow make our life easier and more enjoyable. In this comprehensive guide, we'll introduce you to Treatlife Scene, which can help simplify and enhance your smart home experience like never before.
What is Treatlife Scene?
Treatlife Scene is a customizable setting that allows you to control multiple smart devices with a single command or tap. By creating a Scene, you can seamlessly execute a series of actions across different Treatlife products, creating personalized and immersive experiences tailored to your needs and preferences. Imagine walking into your home with a simple voice command or a tap on your smartphone, your smart lights adjust, and your thermostat sets the perfect temperature. This is the power of customized control.
How Does Treatlife Scene Work?
Understanding the Condition: 
The options in Condition are various. Time-based triggers act as timers, so it allows you to activate the action at a specific time. Sunrise and Sunset are similar to timers, they trigger to align your smart devices with natural lighting conditions. Device status helps customize the Scene based on the status of specific devices. For instance, you can create a Scene that turns off all lights and appliances when an unusual activity is detected. Treatlife incorporates real-time weather information into the Scene. You can create a scene that adjusts the indoor heating based on the current weather conditions, ensuring the best comfort and energy efficiency. Location-based trigger activates the Scene when you arrive or leave a specific location. If you approach home, your lights are turned on to welcome you back.
In short, Treatlife Scene condition offers a wide range of options to satisfy you requirements to various automations.
Customizing Actions: 
Once you've chosen the triggers, it's time to define the actions you want them to perform. Adjusting lighting levels, set specific colors, delay the actions, send notifications, or even trigger specific scenes for different occasions - the choice is yours. With Treatlife Scene actions, you have full control over how your devices interact.
Tips for Creating a Perfect Treatlife Scene
When it comes to how to create a Scene that perfectly fits your requirement, you need to figure out the scenario for the Scene. For example, if you want the light bulbs turned on/off at specific time, you should include timers to the conditions. Then, don't be afraid to add different conditions and actions to the scene and then find out the one that is perfect for you. Last, if you run out of ideas, try the recommended ones or engage with the Treatlife community and discover new ones. Exchange ideas, gather inspiration, and make the most of your smart home devices.
Take Advantage of Voice Control
Integrating Treatlife Scenes with Amazon Alexa and Google Home is a seamless process that allows you to control your Scenes with voice commands. For example, after the Scenes are discovered in Alexa App, you can use voice commands like "Alexa, turn on [Scene name]" or "Alexa, activate [Scene name]" to control the Treatlife Scenes. When the Treatlife devices and Scenes are synced to Google Home App, you can ask Google to execute the target actions by saying "Hey Google, turn on [Scene name]" or "Hey Google, activate [Scene name]".
In conclusion, Treatlife Scene is the key to unlock the full potential of smart home. With its ability to simplify control, create personalized ambience, seamless integrate with your devices, and provide automation options, Treatlife Scenes offer a new level of convenience and customization. Take control of your smart devices and transform your living spaces with a simple tap or a voice command.
You might also like: Is Buying Smart Home Lighting Worth It?