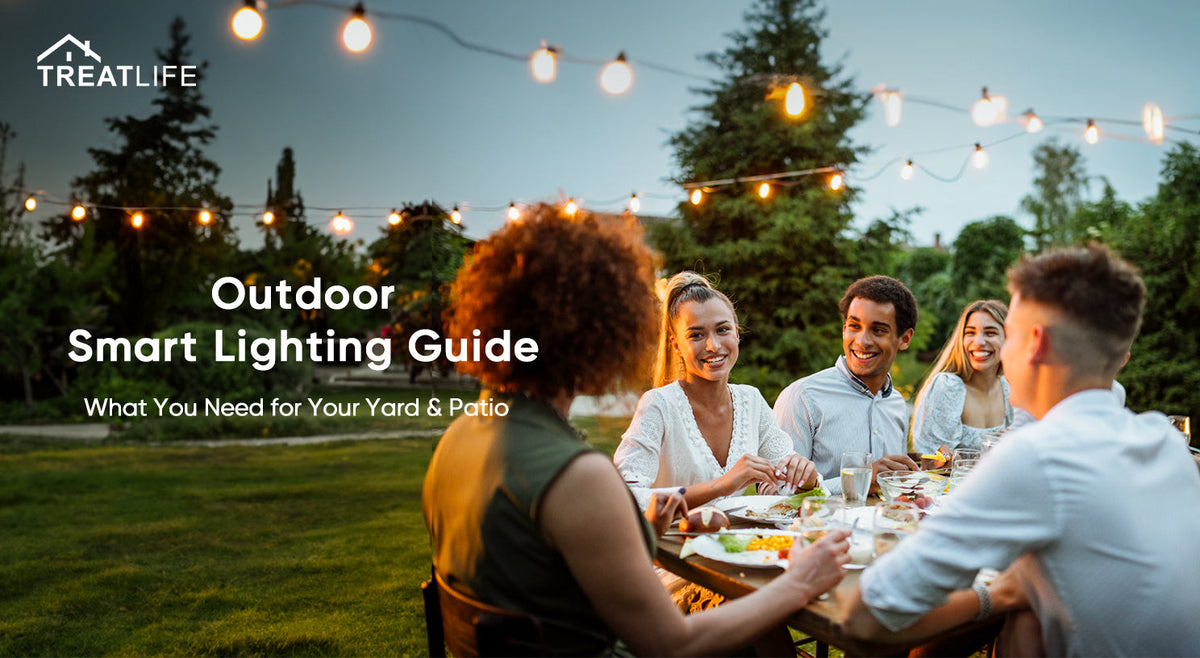 Outdoor Smart Lighting Guide: What You Need for Your Yard & Patio
Outdoor lighting is an essential part of any home's external design. It offers security and ambiance, as well as the ability to enjoy your yard and patio when the sun goes down. Treatlife offers a variety of smart outdoor lighting systems that make controlling and automating your outdoor lighting simple. Here's how to make outdoor lights smart with  the greatest Treatlife gadgets for your needs.
Smart Plugs for Existing Lights
Do you already have outside lighting that you're not ready to replace? No worries. Make dumb lights smart by using Treatlife's outdoor smart dimmer plugs. Treatlife's outdoor smart plugs are IP44 weather-resistant and designed for easy outdoor installation. Simply connect your existing outdoor lights, such as outdoor string light bulbs, patio lights, and pool pump to the Treatlife smart plug. Then they connect directly to your WiFi network and don't require any hub or bridge. Using the Treatlife app, you can turn the lights on and off, establish timers and schedules, and manage the lights whenever and wherever you are. Outdoor smart plugs can also be integrated with motion sensors for automated activation.
Outdoor Smart Lighting Integrated with Motion Sensors
Motion-activated lights are perfect for improving security and safety around the perimeter of your home. Place the motion sensor by doorways, walkways, driveways, or other areas you want to be illuminated when movement is detected. You can even adjust the lighting brightness when motion is detected. All of these can be done automatically by creating an automation like this:
Trigger: when motion is detected
Action: turn on lights, increase the brightness, etc.
Outdoor Smart Lighting Integrated with Door and Gate Sensors
The Treatlife outdoor dimmer plug is an excellent choice for controlling outdoor lighting. You can take automation to the next level by connecting your outdoor dimmer plug to a door sensor. Install a Treatlife door and window sensor, for example, on your backyard gate or fence entrance. Create an automation in the Treatlife app that switches on the outside dimmer plug to a preset brightness level when the door sensor is opened. This enables your backyard or patio lights to turn on automatically anytime someone enters the area. You can adjust the brightness to achieve the ideal degree of illumination. 
Voice Control and Schedules
To make your Treatlife outdoor smart lighting work together seamlessly, set up automation through the Treatlife app. Schedule lights to turn on at sunset and off at sunrise or at a specific time. Treatlife's outdoor smart plugs are compatible with Alexa, Google Assistant, and even Siri. This allows you to control the connected lights using voice commands. Just say "Alexa, turn on front porch lights", "Hey Google, turn off backyard lights", or "Alexa, set my string light to 60%" for hands-free voice control.
Transform your outdoor space with smart outdoor lighting from Treatlife. The wide range of wired and wireless lighting products allows you to easily install and automate illumination to match your exterior lighting needs. Check out the outdoor lighting selection to get started on a smarter, safer yard and patio.
Was this article helpful? Read our related post on what is smart lighting!