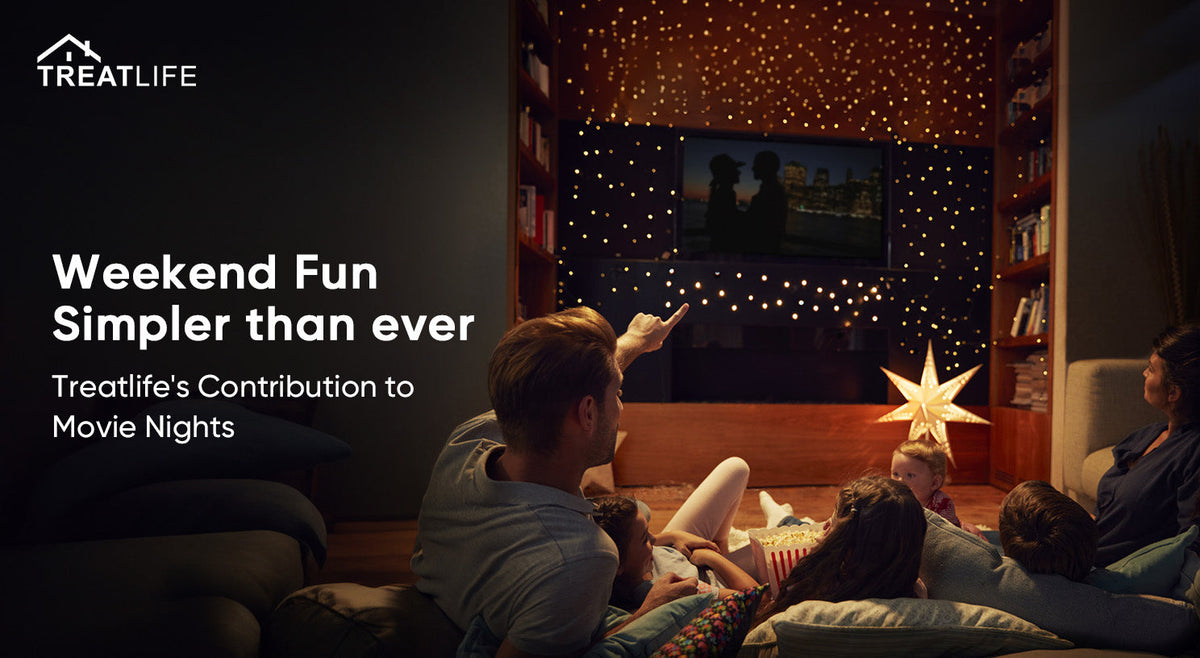 Weekend Fun Simpler than ever: Treatlife's Contribution to Movie Nights and Music
What leisurely weekend are you anticipating when it's Friday night? Your partner wants to arrange a small gathering with friends on Saturday to listen to some new music releases, but the kids are excited for a family movie night. Previously, creating the ideal ambiance for these occasions required fiddling with tangled connections, broken remotes, and incompatible equipment. However, that is no longer the case thanks to Treatlife and the cutting-edge smart home solutions that make leisure time easier than ever.
Treatlife has established itself as a reliable brand for cost-effective, high-performance smart lighting and control systems that easily fit into current home decor. For movie evenings in a bedroom, living room, or media room, Wi-Fi enabled dimmable and colour changing light bulbs and adjustable warm white and cold white LED light bulbs are suitable. You have complete control over the brightness, colors, and ambiance with the free Treatlife app. For a movie theatre atmosphere, turn down the lights on your phone, or use voice control to adjust the color and brightness. Treatlife light bulbs last a long time and use less energy, saving you money on your electricity cost without compromising any aesthetic appeal.
Treatlife's smart light switches provide a simple route to automation for houses that currently have non-smart lighting installed. With these switches, you may operate existing fixtures using voice commands, scheduled scenes, or the Treatlife app. Replace your conventional wall switches with smart ones from Treatlife to obtain immediate access to dimming, colouring, and remote control of your older lamps using an app. Instead of a standard toggle switch, the Treatlife lighting switches offer a slim, contemporary appearance. With a simple tap on your phone, you may dim the lights for a family movie night or brighten them for a suit scenario. All the functions of Treatlife's bulbs are delivered via the smart switches, so you don't have to change your current illumination. Just wire in the smart switch and you can transform basic bulbs into a connected, automated system.
Other aspects of your movie nights can be automated with Treatlife's convenient smart plugs. To ensure that the room is the ideal temperature before the movie begins, schedule them to switch on the heater or air conditioner in advance. Even better, you can programme a smart plug to start the popcorn maker or the hot chocolate maker just as you settle down to watch, ensuring that delicious snacks are ready when you are.
Treatlife's smart sensors keep an eye out for leaks, smoke, carbon monoxide, and motion during your home movie nights for additional piece of mind. If any sensor detects a problem, the Treatlife app instantly alerts your phone. Your mind may remain on the entertainment as you unwind in the knowledge that your home is secure.
Finally, Treatlife products provide thoughtful details like a memory function to preserve preferred lighting settings and simple voice control via Alexa and Google Assistant. Treatlife enables hassle-free, immersive home entertainment. When they attend your Treatlife-powered music and movie parties, friends and family will undoubtedly inquire where they can purchase these innovative devices that make weekends and free time at home more convenient.