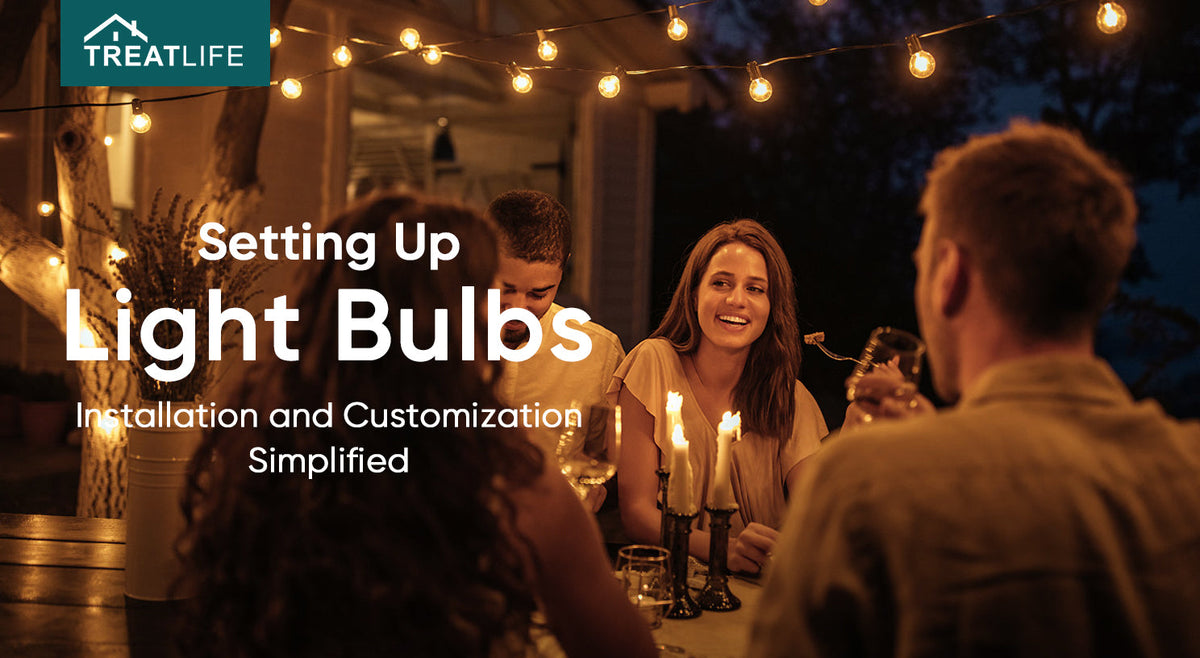 Setting Up Light Bulbs: Installation and Customization Simplified
TreatLife's smart lighting solutions are at the forefront of this transition in how we interact with our homes thanks to smart home technologies. You can customize the atmosphere of your house to fit any occasion or mood with TreatLife smart light bulbs while also increasing energy savings. How to set up smart lights?  Let's go step by step through installing and customizing TreatLife light bulbs.
Step 1: Unboxing and Installation
Installing your new TreatLife light bulb is as easy as screwing in a conventional bulb after you've opened the package. Select the bulb's desired socket, then screw the bulb into it. Before you start, make sure the light switch that controls that socket is in the "off" position.
Step 2: App Download

How to set up light bulb? Your hub for controlling and modifying your smart bulbs is the TreatLife app. The app is available on the Apple App Store and Google Play Store. After downloading, create an account and log in.
Step 3: Adding the Bulb to the App

⦁ Launch the TreatLife app and tap on the "+" symbol to add a new device. 
⦁ Select "Lighting" from the list, and then select the right model.
⦁ Next, connect to 2.4GHz WiFi network. 
⦁ Tap on "EZ mode" in the top right corner.
⦁ Press the light switch "On-Off-On-Off-On" until the light bulb flashes rapidly.
⦁ Tap "Confirm indicator rapidly blink"
⦁ Wait for the connection to complete.
Notes: if the connection failed, check if you connect to the 2.4 GHz wifi network. If it doesn't work even if connected to the right wifi network, please try AP mode.

Step 4: Customizing Your Bulb: Set Up Smart Light Bulb

Having linked your smart bulbs, you may begin to learn more about its features:
Color and Brightness Adjustment: You may adjust the color and brightness of your light with the TreatLife app. For regular use, choose from a range of chilly to warm white light, or for special events, select from a variety of colors.


 
Timers and Schedules: Would you like your lights to come on and go off at certain times? For your TreatLife bulbs, you can easily arrange routines, which is great for maintaining a habit or giving the impression that someone is home while you're away.


 
Scenes and Automations: You may synchronize numerous devices with a single command by using TreatLife bulbs in scenes or automation. You could, for instance, set up a "Good Night" automation to dim and turn off your lights at 11 p.m.


 
Voice Control: TreatLife bulbs can be integrated with popular voice assistants, such as Amazon Alexa and Google Home. With that being said, you don't have to pick up your phone to control the light bulbs. Just ask Alexa or Google to do it for you. 


It's that simple to install your TreatLife smart light bulbs. These procedures will enable you to change the atmosphere of your house with the touch of a button or a straightforward voice command. Explore the endless potential of smart home technology by embracing the future of residential lighting with TreatLife.

Also read the article: " Everything you need to know about smart lighting".