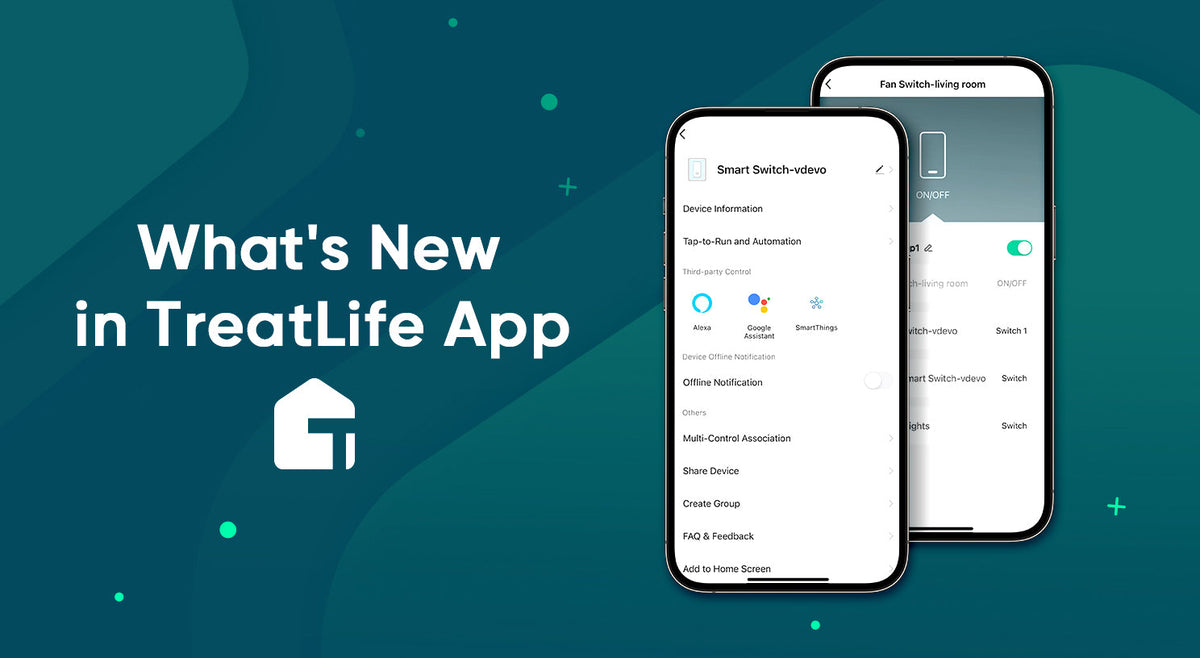 TreatLife App Update: New Features for an Enhanced Smart Home Experience
Quick Control to Lighting Devices
There is quick access to certain lighting devices. You may turn the device on or off, set its brightness, and change the color temperature by going to the home page and clicking the dropdown icon next to the device tile in the bottom right. There is no need to wait for the control to load completely. Swift and easy.
Add Multi-Control Association                
Only some switches have access to it specifically. Using this function, you can add no more than five supported models to a group and turn them on and off simultaneously.
Here is how to utilize it:
If your model supports this function, go to the device control page and tap the pencil icon in the top right corner to access Multi-Control Association. Toggle it on, then include the devices in this group after that. You'll be able to control them all at once once they're established.
Add 'Discover'      
The "Discover" tab, which is easily found at the bottom of your app screen, serves as your entry point to TreatLife's most recent products, features, updates, and provides you with comprehensive guides to choose a right device, how to utilize a feature or a product, etc.  For example, in Buyer's Guide, it's designed to help you find the best TreatLife products according to your needs. While in How to Guide, providing a wealth of knowledge on how to install, add, and use your TreatLife devices to their fullest potential. This helpful manual aims to support users from installation through troubleshooting so that you can control and use your smart devices efficiently. Pro tips&tricks is a special section where you can maximize the functionality of your smart devices, discover hidden advanced features, and improve your overall smart home experience.
Auto Device Pairing
With the aid of this feature, adding your TreatLife devices—specifically those that support Bluetooth—to the App is simplified, enabling more rapid setup and installation. Instead of requiring manual connection, the TreatLife App can now identify and pair with Bluetooth-enabled devices nearby, saving you time and effort.
The process is as follows:
Make sure Bluetooth is enabled in your smartphone's settings. 
Launch the TreatLife App. 
Navigate to the home page, click on the "+" icon in the top right corner.
The App will automatically search for the Bluetooth-enabled devices in range and they will be instantly found and shown on the screen.
Simply click on the device you wish to pair, then proceed by doing as instructed. 
The most recent version of TreatLife App includes a wide range of improved features and functionalities that are intended to improve the usability, accessibility, and effectiveness of your smart home experience. We're dedicated to improving your TreatLife experience, from adding Auto Device Pairing for Bluetooth devices to giving various information in the Discover tab, allowing Quick Access to control lighting devices, and adding Multi-Control Association. Update it from the Google Play Store or the App Store as soon as possible to access these new features. Please share your thoughts on this update with us!